Frankie "The Answer" Edgar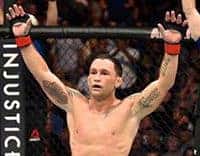 Frank James Edgar (born October 16, 1981) is an American mixed martial artist from New Jersey who competes as a Featherweight in the Ultimate Fighting Championship and is a former UFC Lightweight Champion. He holds notable victories over former world champions Sean Sherk, Hermes França, B.J. Penn (x3), Urijah Faber and top featherweight contender Chad Mendes. As of June 5, 2017, Edgar is ranked as the #2 featherweight fighter.
Frankie Edgar wrestled at Toms River High School East, making it to the New Jersey state championship tournament on three occasions, placing second as a junior and fifth as a senior. Edgar is the oldest of 3 children, Edgar went on to compete in the NHSCA Senior Nationals and placed second before he finished high school. He continued wrestling at Clarion University of Pennsylvania, where he qualified for the nationals all four years there. Edgar is also an assistant coach for the Rutgers University wrestling team.
Edgar and his wife, Renee, were married ten days after UFC Fight Night 13. The couple have two sons— Francesco, born in January 2009, and Santino James, born in May 2010. They also have one daughter — Valentina, born in June 2014.