About Us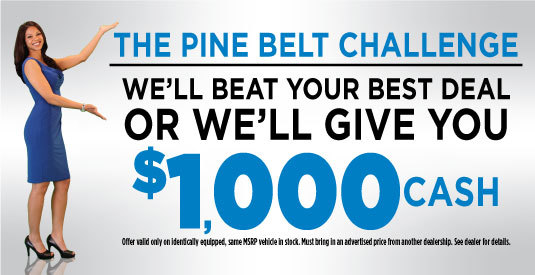 Pine Belt Cars at the Jersey Shore...A Trusted Name Since 1937!
Pine Belt Cars is a family owned and operated New Jersey car dealer with a rich tradition of offering new or used cars, trucks and SUVs while prioritizing the needs of each customer. PineBelt Cars specializes in Chevy, Chrysler, Dodge, Jeep, Ram and Subaru cars. Check out PineBelt Chevy in Lakewood NJ, the most trusted New Jersey Chevy dealer at the Jersey Shore!
PineBelt Cars offers deals at its four dealerships in Lakewood NJ and continues to get involved in community activities. PineBelt is proud to offer great deals to the surrounding communities throughout New Jersey including Toms River, Brick or Jackson. As our brands have evolved, our tradition of accommodating service has only improved, earning PineBelt a glowing reputation throughout New Jersey and beyond.
PineBelt Cars dealerships are involved in the local community. Some of PineBelt's philanthropic affiliations include sponsoring the PineBelt Arena, Lakewood Little League, United Way of Ocean County, Lakewood Police Department, Jewish Federation, and the Monmouth-Ocean Development Council.
PineBelt Cars was founded in 1937 by Leon Sickel. His son, President and CEO David Sickel, is a lifelong Lakewood resident who graduated from Franklin & Marshall College. He joined the family business in 1970 after attending the General Motors Institute in Detroit, Michigan, and serving in the U.S. Naval Reserve. It was then that David learned all aspects of operating an automotive dealership. Upon his father's retirement in 1975, David assumed his current role.
PineBelt Cars is a member of the National Automobile Dealers Association and the New Jersey Coalition of Automotive Retailers.