START THE PROCESS ONLINE
STEP 1: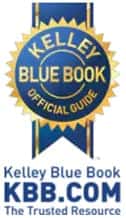 Click on SELL IT NOW and enter your information in the Instant Cash Offer system powered by KBB, the most trusted name in used car value. Tell us about the vehicle you would like to sell – Year, Make, Model, Vin, Mileage and Condition.
STEP 2:
Receive your quote then bring your vehicle and all documentation to us.
STEP 3:
When you arrive, an Express Buying Consultant will walk your vehicle with you while filling out a condition report, recording the vehicle's mileage then taking it for a quick test drive.
STEP 4:
We'll make a copy of the vehicle's registration and title.
STEP 5:
We will verify your online offer utilizing our KBB evaluation software in a matter of minutes!
STEP 6:
Once agreed upon, we'll write you a check on the spot!