Cargo Vans & Passenger Vans

Chevrolet Express cargo vans or passenger vans are built with the strength, dependability and capability to handle whatever you can throw at them. With a range of capacity options and customizations, Chevy Express commercial vans give you the room you need to get the job done.
Pine Belt Cars has used or new commercial vans for your New Jersey business. With dealerships in Lakewood, NJ and Freehold, NJ, Pine Belt Chevy can serve your cargo, utility, and passenger needs with a new Chevrolet Express. For more power try driving the Chevy Express 3500, with a 4,000 pound payload rating! Need more space with more options? Customize a Chevy Express box truck that fits your business needs.


View All Inventory
Chevrolet Express 1500
Set up as a passenger van, the Chevy Express 1500 commercial van can give you space and flexibility with 8, 12 or 15 passenger seating configurations. The Express 1500 is also one of the best cargo vans on the road, with many options for customization.
View Inventory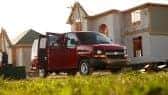 Chevrolet Express 2500
Chevrolet's rear-wheel drive Express 2500 passenger and commercial cargo vans provide a rugged and durable means of transporting several passengers or a large payload of cargo. A trusted Chevy commercial van, the express will help you get the job done.
View Inventory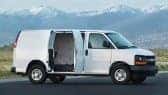 Chevrolet Express 3500
When you need more power and payload capacity check out an Express 3500 commercial van. Chevy express 3500 cargo vans are available in work van trim and provide an excellent base for a multi-purpose utility vehicle that can be equipped to suit your work needs.
View Inventory
View All Inventory