We Are Open And Fully Operational In Both Sales & Service
Our Commitment to Our Customers Since 1937 Will Not Change
Normal business operations have changed to comply with state regulations. We are open by appointment only and are accommodating every single customer in any way that we can – in both service & sales
At Pine Belt, we want to make the car buying and car owning process as easy as possible for you.
Talk directly with us (click the chat bubble in the bottom right corner, or call us).
Shop for and finance a vehicle remotely through our secure digital retailing tools by clicking "Shop/Buy From Home" on the page of your desired vehicle.
Have a new or used car delivered to you or arrange for curbside pickup.
Have your vehicle picked up for service and dropped back off. We'll even give you a loaner, if available.
We're In This Together
As a Lakewood community staple since 1937, we are here to support your vehicle needs, whether for in-person appointments with extra safety precautions in place, scheduled no-contact pick up drop off service, or remotely – via phone or online.
Send us a message
Call us for accommodations
Sales
Don't Let Social Distancing Keep You From Getting Your Dream Car
While Pine Belt showrooms are open by appointment only to comply with state-mandated regulations, and for the safety of our staff and our customers, you can still purchase a new vehicle. We are open online and via phone from 8:30 AM to 9 PM on Monday – Friday, and 8:30 AM – 7 PM on Saturday. Our showroom is open to senior citizens only during the hours of 8:30 AM to 10:00 AM for in-person appointments.
Take Advantage of Pine Belt Remote – a no-stress, contactless, and easy way to purchase a vehicle from the comfort of your own home.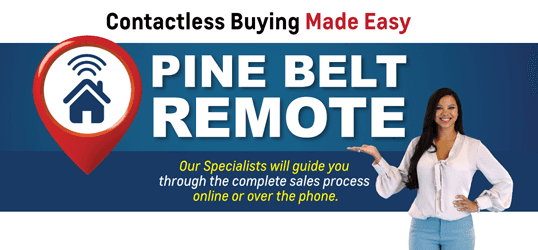 Service
Easy, No-hassle Pick Up/Drop Off Service At Your Convenience
Schedule service online, through our live chat, or via phone.
We can pick up your vehicle for service and deliver your vehicle to you when service is complete, or you may drop it off and we will call you when it is ready.
We will fully wipe down your door handles, steering wheel, shifter, and common areas with sanitizing wipes.
Loaner vehicles are available by request while supplies last.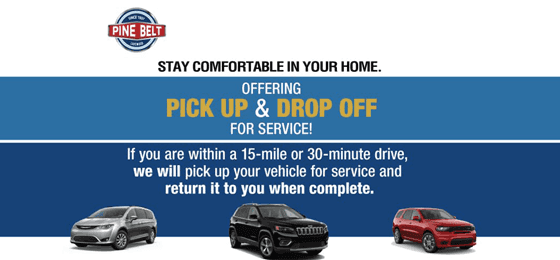 Pine Belt puts the safety of our team members and our customers first. To comply with federal and state recommendations, as well as social distancing protocols, we have made some changes to our operational procedures.
We are not accepting walk-in customers at the dealership. We will schedule appointments online or via phone for any sales or service related needs. Our showroom is open for in-person sales appointments, in addition to our new Pine Belt Remote team available for virtual business, between 8:30 AM and 7 PM, Monday – Friday; and 9 AM – 5 PM Saturday. Our Service Service Department will be open from 7:30 AM to 4 PM Monday – Friday
We have fully staffed our virtual sales & service teams. There is a reduced amount of on-site staff, limited to the essential sales, service and parts employees only
We have increased our cleaning service visits, and are regularly disinfecting all high traffic areas.
We have implemented protective and sanitary measures for all vehicles in our service and repair facilities, including steering wheel and shifter covers that will be put on in front of the customer, and not again removed until the customer accepts their vehicle back into their possession.
As changes in our operational procedures change, we will keep all of our customers updated.
Visit our dealership websites or contact us to find out more about available financing, shopping from home, or pick up/drop off service and vehicle maintenance.
Pine Belt Chevrolet
1088 Rt 88/Ocean Ave • Lakewood NJ 08701 US
Sales:
732-363-2900
Service:
732-363-1200
Parts:
732-363-4600
Sales Hours
Monday – Friday: 8:30AM – 8:00PM
Saturday: 8:30AM – 6:00PM
We are proud to provide exclusive senior citizen only hours from 8:30-10am Monday through Saturday
Sunday: Closed
Service Hours
Monday – Friday: 7:30AM – 6:00PM
Saturday: 8:00AM – 5:00PM
Sunday: Closed
Parts Hours
Monday – Friday: 8:00AM – 5:00PM
Saturday: 8:00AM – 12:00PM
Sunday: Closed
Pine Belt Chrysler Jeep Dodge Ram
1400 Rt 88/Ocean Ave • Lakewood NJ 08701
Sales:
732-901-3600
Service:
732-901-3636
Parts:
732-901-3636
Sales Hours
Monday – Friday: 8:30AM – 8:00PM
Saturday: 8:30AM – 6:00PM
We are proud to provide exclusive senior citizen only hours from 8:30-10am Monday through Saturday
Sunday: Closed
Service Hours
Monday – Friday: 7:30AM – 6:00PM
Saturday: 7:30AM – 5:00PM
Sunday: Closed
Parts Hours
Monday – Friday: 7:30AM – 5:00PM
Saturday: 8:00AM – 12:00PM
Sunday: Closed
Pine Belt Subaru
1104 Route 88 • Lakewood NJ 08701
Sales:
732-719-1600
Service:
732-719-1601
Parts:
732-719-1602
Sales Hours
Monday – Friday: 8:30AM – 8:00PM
Saturday: 8:30AM – 6:00PM
We are proud to provide exclusive senior citizen only hours from 8:30-10am Monday through Saturday
Sunday: Closed
Service Hours
Monday – Friday: 7:30AM – 6:00PM
Saturday: 7:30AM – 5:00PM
Sunday: Closed
Express Service Hours
Monday – Saturday: 8:00AM – 3:30PM
Sunday: Closed
Parts Hours
Monday – Friday: 7:30AM – 5:00PM
Saturday: 7:30AM – 12:00PM
Sunday: Closed